In April 2021, King County Executive Dow Constantine revealed a strategic initiative that, over the course of the next 30 years, will provide an intersectional approach to water protection, addressing everything from forest management to stormwater runoff to floodplain restoration to shoreline resiliency. This new Clean Water Healthy Habitat strategic plan ties the investment of $9 billion of King County funding to six measurable goals, linking water quality & habitat to protect salmon and orca populations.
Abby Hook, Environmental Affairs Officer for King County DNRP, said in a recent Seattle Times piece that the goal is to guide investments to boost salmon populations and water quality, and conserve essential habitat for the good of orcas, salmon and future generations of county residents — even as the climate changes and county population grows. 
Executive Constantine adds, "Clean Water Healthy Habitat is my promise to all living things that call this spectacular place home – to produce better results faster for each public dollar we invest… with a new approach based on science, focused on outcomes, and committed to racial justice, we will work with our partners throughout Central Puget Sound to achieve clearly defined goals for people, salmon, and orcas."
You can read more about the Clean Water Healthy Habitat plan using the link above, in addition to King County's short animated video about the plan. You can also find the full strategic plan on the Resources section of the Emerald Alliance website.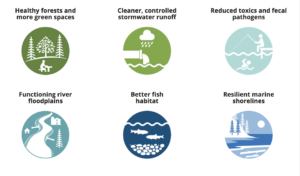 [photo credit: King County]